Author with autistic daughter urges more to include characters with disabilities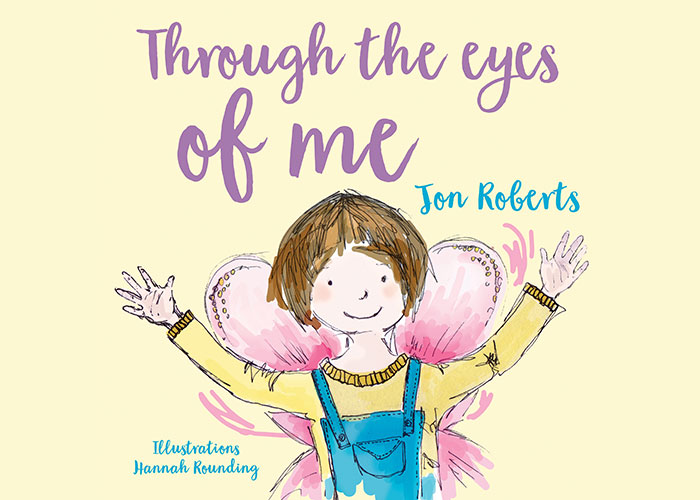 Swansea-based author, Jon Roberts, is calling on other authors for more diversity in books following his recently published book, Through the Eyes of Me, a story of a girl with autism based on the life of his own daughter.
When Jon's daughter Kya was diagnosed with autism, Jon began to diarise her life as her personality started to change. She developed from a quiet child into a beautiful girl with a wicked sense of humour and an infectious laugh.
Through the Eyes of Me is a joyful picture-book describing the everyday life of a child with autism and helps people of all ages recognise certain behaviour, appreciate thoughts and feelings, and learn how to communicate with people with autism.
When Kya started mainstream school, the children in her class would ask the teacher "Why does Kya wave her hands?", "Why does Kya run around?" and "Why won't Kya talk?". Calling on more authors to include diversity in children's books, Jon said:
"I wanted to take all of these questions people were asking and create a nice, pretty looking and simple to read book explaining Kya's differences and beautiful quirks with illustrations to go with."
Commenting on the book, National Autistic Association Cymru said:
"[Through the Eyes of Me] is a beautiful story about a beautiful girl… we hope others love Kya's story as much as we do."
Through the Eyes of Me is Jon's first book, but he is already working on a second book telling the story of a new character called Martha who is also autistic. Speaking on the follow-up, Jon said:
"As autism is a spectrum, I want to show the differences and similarities of autism and that no two people are the same."
You can join Jon at 4pm on Saturday the 30th of March at Cardiff's Old Library Gallery at this year's Cardiff Children's Literature Festival as he talks about and reads Through the Eyes of Me.
The award-winning Cardiff Children's Literature Festival 2019 is set to host more than 50 events in English and Welsh including writing workshops, book readings, craft activities and games across Cardiff's most iconic venues such as Cardiff Castle, Cardiff City Hall and Cardiff Central Library.
For more information and to book tickets, visit  www.cardiffkidslitfest.com / www.gwylllenplantcaerdydd.com
For tickets to Job Roberts' session, visit https://www.cardiffkidslitfest.com/events/jon-roberts/