Llanelli students deliver business proposal to Principality CEO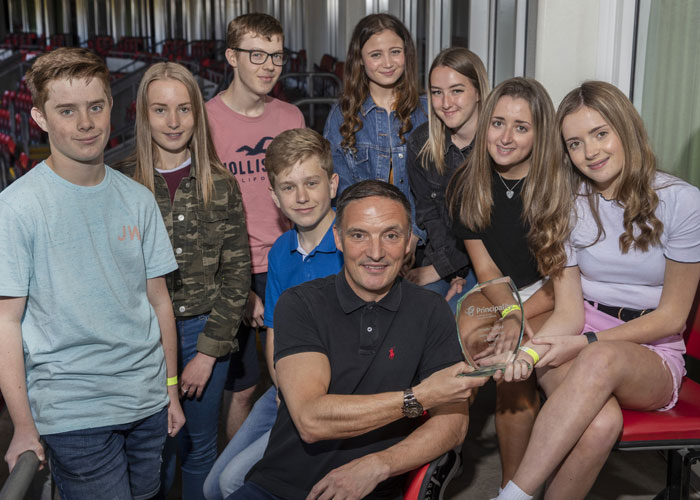 Students from Llanelli based school Ysgol y Strade will be set for success after delivering a business proposal to Principality Building Society.
As part of the Principality Savings Challenge project, Ysgol y Strade students proved their business acumen by creating and delivering a proposal for a new savings account.
Held at the iconic Principality Stadium in Cardiff, students heard from a range of industry experts in the society, before pitching their ideas to a panel of judges, including the society's CEO Steve Hughes.
The aim of the project was to develop the students' team work, confidence and presenting skills, which are highly valuable skills for the workplace. The students showed passion, dedication and drive when presenting, with the winning team pitching an account aimed at saving for university.
Ysgol y Strade and Principality Building Society have forged a strong link through the Business Class programme, which sees the school receive funding towards development in both financial education and sports.
Throughout the partnership, Principality colleagues have spent time mentoring the students on financial education, teaching valuable skills such as saving money and budgeting. The society is also working with the Young Money charity, providing funding to help Ysgol y Strade become a Centre of Excellence in Financial Education.
Steve Hughes, CEO of Principality Building Society said:
"It's important for us to be supporting the hard work schools do in preparing students for adult and working life. Our partnership with Ysgol y Strade is a key part of this, enabling the students to both learn valuable life skills in becoming financially capable and preparing themselves for the workplace.

"The students' proposals were great – they delivered their presentations with enthusiasm and demonstrated clear business sense. I hope that I saw a few future Principality colleagues in the room and ideas that we can bring to market."
Daniel Hughes, Head of Business at Ysgol y Strade said:
"We were delighted to take part in the Principality Savings Challenge. The students were given a practical hands on experience, learning about creating a new savings account that targeted their demographic. Combining financial education and enterprise; the Principality Savings Challenge enriched the curriculum and learning experience for these pupils.

"The skills demonstrated by the pupils throughout the day were exceptional and a big thank you must go to the Principality for their expert guidance and support before and during the day. This was a great way to round off another fantastic year of the Business Class partnership."
In 2019, Principality was named as Responsible Business Awards – Volunteering Impact category winner for its long term support to schools across Wales.