Welcome to the Hyb: New Kitchen and Coffee Shop Opens at Cynon Linc in Aberdare
An exciting new community kitchen and coffee shop has opened its' doors to the public this week.
The Hyb sits at the heart of Cynon Linc in Aberdare, it's a bright and welcoming space which includes a fantastic outside courtyard for sunny days.
The kitchen provides a wide range of meals, snacks, healthy options, and speciality teas and coffees aimed at the whole community, with food provided by ex-BBC Wales Restaurant Chef Andrew Mason, who already has exciting plans for the venue.
Andrew is already building his team and has created an excellent menu.  Andrew says:
"I am looking forward to catering for the whole community, from good old fashioned homemade classics through to modern day fusion. Also, there will be tempting light bites, mouth-watering main meals, stunning cakes and an ever-changing specials board."
"We want to make it a place for the whole community to enjoy, so in addition to providing a great selection of food, we will be providing discounted lunches for the over 60s.  These two course lunches will be available every weekday between 12pm and 2pm for £6.
Established South Wales coffee supplier, Argies Coffee, has provided the Hyb with their own branded coffee beans as well as other retail products and Argies team members Jo Parry and Alysha Huxley were on hand to support the opening.
Jo said:
"We work with food and drink business of all sizes across Wales, but working with community projects like this is always a pleasure for the Argies team – these places are so much more than a place to grab a coffee, they soon become the heart of the community, where people can enjoy a lovingly prepared meal, have a great cup of coffee and find friendship and support. We wish the team every success for this fantastic new venture."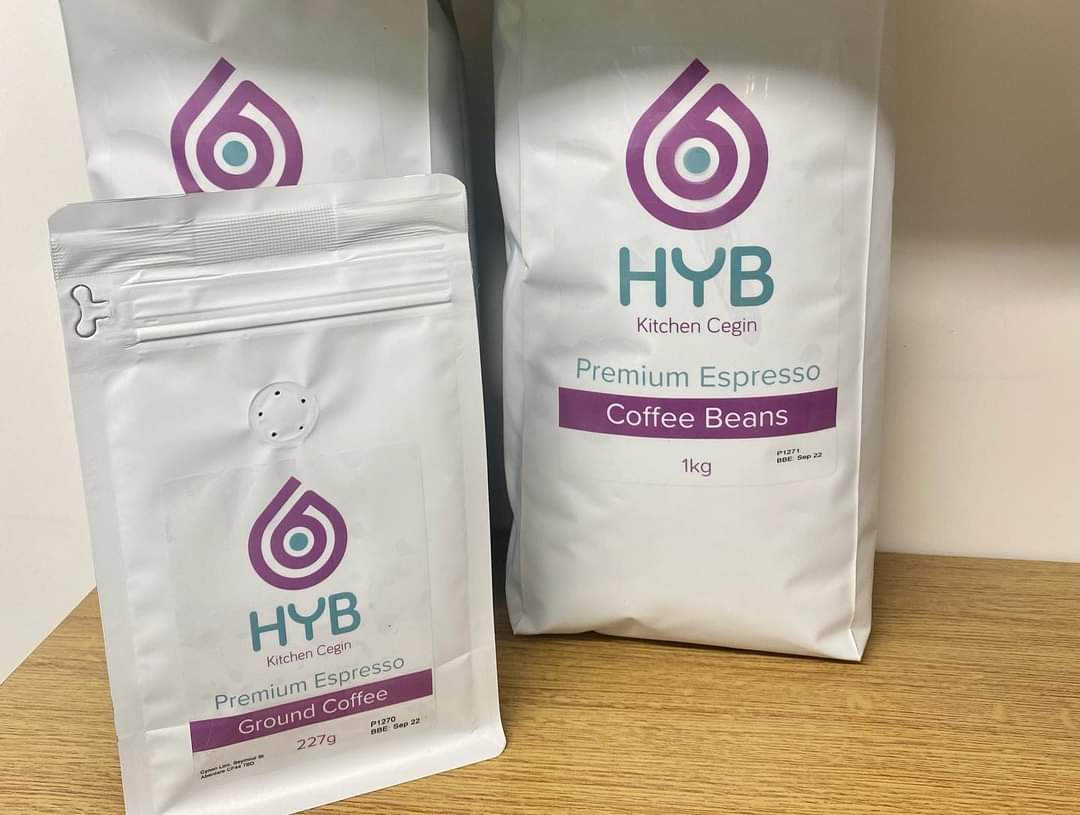 Overseeing the project has been Adele Harries-Nicholas, from Age Connects Morgannwg.
"The Hyb kitchen and coffee shop will provide a great space to meet old friends and make new ones, with dedicated space for those who need a space to work and a break from working from home. Food will be served from 9 am to 5pm with everything homemade and cooked fresh on site, and having seen and tasted the chefs cooking I am excited about the plans he has to make the Hyb the place to eat and drink in Aberdare."
The kitchen and coffee shop is just one element of Cynon Linc, a destination for the whole community. It will be a home to community groups, organisations and companies that will benefit the local and wider community.
Support for this development has come from a range of organisations, these include; Rhondda Cynon Taff County Borough Council, Cwm Taff Morgannwg University Health Board and funders such as The National Lottery Community Fund, Dunhill Medical Trust, Pen Y Cymoedd, Welsh Church Acts and The Welsh Government Integrated Care Fund.