What insurance do taxi drivers need?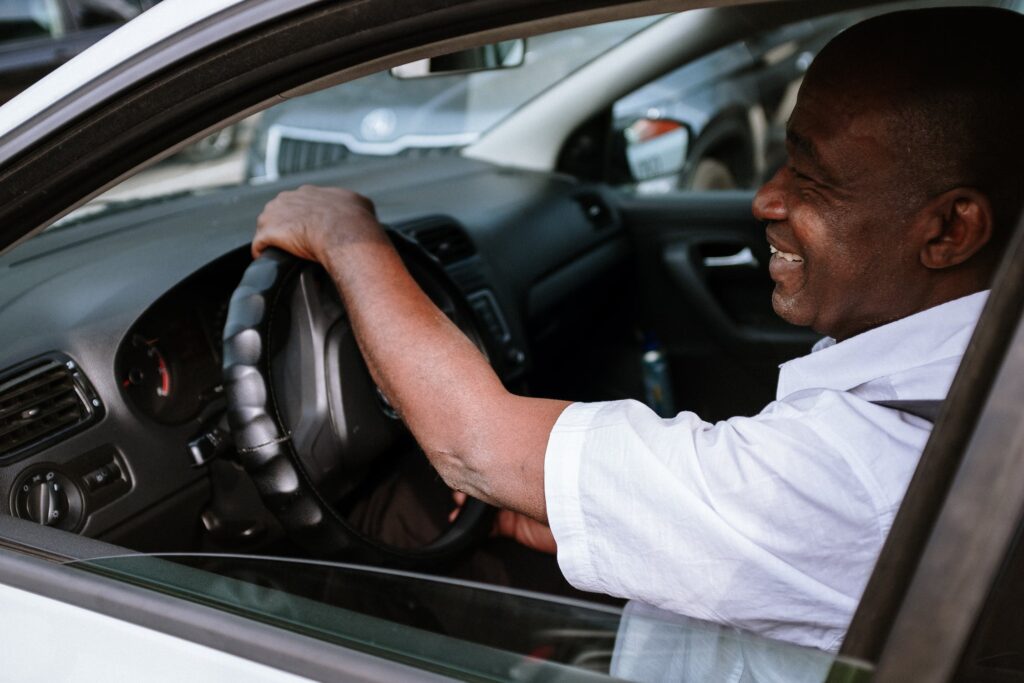 Taxi drivers need a bespoke form of vehicle insurance. This is often referred to as public hire taxi insurance or private hire taxi insurance depending on how their taxi is booked, according to insurance research company NimbleFins.
Online, it's also regularly referred to as hire and reward, and while the terms can be used interchangeably it's important to differentiate exactly how a taxi can be hired, as it will decide which type of taxi insurance a driver needs.
If a taxi is able to be hailed down on the side of the street, or takes passengers without a previous booking, then it'll need public hire taxi insurance. Public hire taxi insurance covers drivers for some of the additional risks they'll face while accepting customers without bookings, such as having to come up with routes while on the move and parking at difficult roadside locations to pick up and drop off customers.
If a taxi is only available for pre-bookings, either through an app like Uber or Bolt, or from a taxi company, then it only needs to be covered by private hire taxi insurance. Private hire is cheaper than public hire, as there's time to plan a route ahead of time (or have one prepared by an app) and it's easier to park somewhere convenient to avoid tricky situations when it comes to collecting customers or finishing up the journey.
It's illegal to be on UK roads without the correct form of insurance, and failing to insure correctly can result in the driver receiving points on their license or fines. The council may also be within their rights to restrict or suspend a taxi licence altogether if the correct insurance isn't in place, so it's especially important to make sure all insurances are correct before taking to the road.
Do taxi drivers need public liability insurance?
It isn't a legal requirement for taxi drivers in the UK to hold public liability insurance. However, most quality cabbies will have a policy anyway. Public liability insurance can take care of the headaches caused if a customer incurs property damage or personal injury that isn't the result of a road accident.
It could be that they're passing the driver their phone to show a location when it's dropped, or that someone trips over while entering the cab due to a trip hazard, if the driver is found to be at fault then they could face expensive court cases and possibly even need to compensate the customer for the issue caused.
It isn't too expensive, so it's worth considering what the plan would be if something did happen, and where the money might come from to cover legal expenses and compensation fees. If it isn't clear, or there's concern about being able to afford it, public liability is worth having just in case something does ever go wrong.
Can I drive a taxi with normal insurance?
No, a taxi or Uber cannot be driven in the UK with regular vehicle insurance. Instead, taxi insurance is required in order to be properly insured.
Regular vehicle insurance (that is, social, domestic & pleasure) is designed to cover drivers for the risks they'll face while driving for personal reasons. They'll usually park in designated parking spots at home, supermarkets or shopping centres, with journeys usually being a simple A to B. They spend fewer hours on the road than cabbies, and also typically drive during the day, avoiding riskier night driving.
Comparatively, taxi drivers might need to stop at awkward roadside locations to pick up or drop off customers. They'll regularly drive late into the night, especially on busy Fridays and Saturdays, and spend far more time on average behind the wheel than your typical driver.
The combination of these risks (among others) means a taxi driver requires a more versatile cover. Regular vehicle insurance simply won't do the job and legally is not sufficient.
Types of taxi insurance
Taxi insurance, like regular vehicle insurance, typically comes in three different levels – comprehensive, third party fire and theft (TPFT) and third party only (TPO). Most drivers will be familiar with these from insuring their personal car, motorbike or van.
There can be some confusion when it comes to private hire and public hire taxi insurance. Private hire is designed for those who only take bookings through their company or an app (Uber etc.) and wouldn't accept a customer hailing them down on a pavement or roadside.
Public hire is designed for a driver who would accept customers waving them down, and therefore doesn't receive all of their bookings through an app or the business they work with. A driver with public hire cover should still be able to accept private bookings, but they get additional protection for those awkward roadside pickups and dropoffs.
Each driver should consider where they get their bookings from. If they ever take customers without a prior booking, they'll need public hire, or risk breaching the terms of their private hire insurance