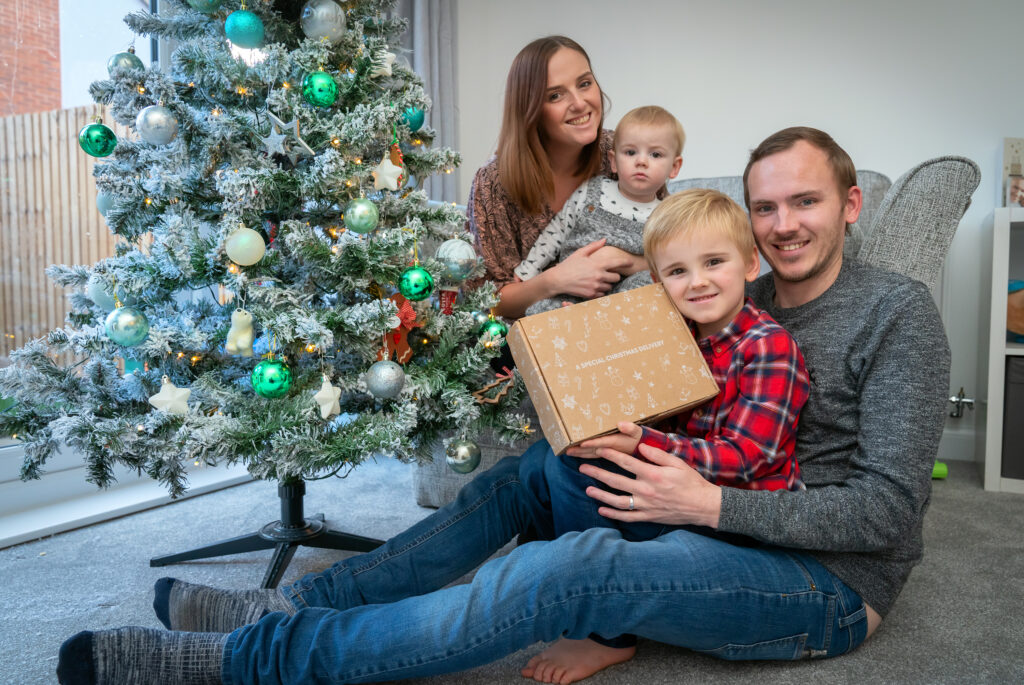 Special Santa Stop Here packages have landed on the doorsteps of families living in Barratt and David Wilson homes in South Wales this month — each one created by the housebuilder to help children who have recently moved home show Santa exactly where to find them.
Those on the 'nice' list have been gifted with the boxes of festive items*, which include a key to hang on the front door, paper plate and crayons to design a colourful treat platter for Santa, and reindeer food to show Rudolph where to land.
Sasha and Scott Evans and their two children, Cody, five and Reuben, one, received their festive package this week, after moving into their new Barratt home at Waterside at The Quays in Barry just two weeks ago.
Sasha said: "One of the first questions Cody asked when we moved in was how Santa would know where to find him, but thanks to this special package from Barratt Homes, he knows Santa will definitely stop by.
"Christmas will be different for everyone this year due to coronavirus, so additional, magical touches like these are more important than ever for the children — the key is already hanging on our front door to show Santa where we live!"
While Barratt and David Wilson Homes can't reach all families with their Santa Stop Here boxes, they hope that by following the five tried-and-tested steps below, every child can expect a visit from the man himself this year.
1. Sprinkle some magical reindeer food on the ground outside your home
Did you know reindeer have excellent eyesight? Sprinkle some yummy reindeer food on the ground outside and Rudolph won't be able to resist stopping the sleigh for a delicious snack. Barratt and David Wilson Homes have opted for some healthy oats in their packages, but reindeer absolutely love raisins and carrots too. But remember, don't sprinkle anything made of plastic — including glitter — as this might make them poorly!
2. Hang a welcoming Christmas sign on the handle of your front door
If you hang a shiny key on your door handle or tie a hand-drawn sign to the doorknocker, there's no way Santa will miss your house. You could even write him a message in chalk on the driveway or pavement if you ask your parents' permission.
3. Leave Santa a specially presented snack
Everyone knows Santa loves a treat or two – but did you know he also loves children's artwork? Why not accompany his favourite snack with a unique drawing, painting or scribble? Barratt and David Wilson Homes recommend designing a paper plate for Santa's snack, but placing a wonderful piece of art next to a plate from your kitchen will work a treat, too!
4. Write a kind note to Santa
Santa has got a very busy job rushing around the world delivering presents to every child, so a little gratitude goes a long way. Leave a note to say 'thank you' to Santa for delivering your gifts and wish him, Rudolph and the elves a very Merry Christmas!
5. Go to bed as early as possible
It can be really hard to get to sleep when you're so excited for Christmas Day, but don't forget, Santa will only deliver presents when you're sleeping!
*The Santa Stop Here packages contain the following items:
• An A4 scroll with instructions for each recipient
• A special key to hang on the families' front doors so Santa knows which house is theirs
• A paper plate and pack of crayons to create a beautiful platter for Santa's treat
• Some reindeer food to sprinkle outside so Rudolph knows where to land
• Christmas-themed paper so children can leave Santa a friendly note.
To find out more about Barratt Developments, please visit: barrattdevelopments.co.uk/