Historic Places you Can Visit In Wales During COVID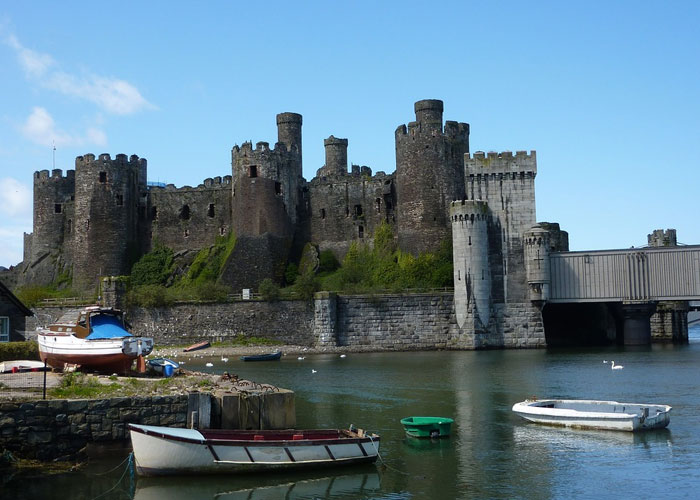 It has been several months since everything came to a halt due to lockdown. Non-essential stores shut down, pubs and restaurants closed, and visitors were told that they could not visit the most famous tourist attractions due to the spread of outbreak.  We had a short break, but areas are starting to close down again.  However, even, as parts of Wales once again move into lockdown,  visitors outside high risk areas are still welcome to visit some of Wales' most beautiful historical attractions.
The Copper Kingdom Centre, Amlwch
Anglesey is presently unaffected by the stricter regulations in place across South Wales, with tourist attractions opening in accordance with standard operating procedure and social distancing. Copper Kingdom Centre portrays the tribulations and stories of ancestors. The cultural heritage represented in one of the UK's most famous museums attracts many visitors. Tourists can also visit the Parys Mountain, which has a range of colourful and rugged pathways. If you are a student and looking for assignments on historical places, you can avail write my essay services for getting the best results for yourself. An expert writer will complete the task for you and ensure that you receive good marks in coursework. With a top-quality service provider, you can feel assured and secured about receiving quality content.
The Blaenavon World Heritage Site
Blaenavon World Heritage Site in Monmouthshire pays a wonderful tribute to the mining history of South Wales.  It contains a number of sites including Big Pit National Coal Museum as well as lots of other attractions spread across 33km.  During the 19th and 20th centuries, Blaenavon was considered to be a significant source of iron production and coal mining. Exploring the different museums, you can explore the cultural heritage of this ancient town – although check each individual attraction before setting off as some of the nearby regions, including Newport, are currently subject to local lockdown restrictions.
Many of the activities take place outdoors, so so this is the perfect way to bring history to life as well as learning more about South Wales. If you are struggling with completing assignments on world heritage, then you can pay for a research paper to get good grades. It will help you in maintaining satisfactory academic performance in your college studies. A top writer will meet all the requirements of the assignment and ensure that you are fully satisfied with the completed task. With a top service provider, you have a benefit of asking for unlimited revisions in case you do not feel satisfied with the quality of work.
Pontcysyllte Aqueduct
If you are planning holidays with family and days out in North Wales, then the Pontcysyllte Aqueduct is a must-see place to visit. It is the most popular world heritage location in Britain – and as well as the aqueduct itself, you can also enjoy local activities like boat trips and horse riding. The Trevor Basin Visitor Centre and Llangollen Wharf are particularly popular. Crossing the River Dee valley across Llangollen Canal allows visitors to explore the fantastic canal network and admire the engineering feats that created the aqueduct. Trevor Basin Centre is free to visit and a great place to start. Instagram lovers will love the many photo opportunities – and a chat with the locals will afford opportunities for learning more about the history of the region. The region is extremely beautiful and only a short drive from another popular tourist attraction, the Llangollen Mountain Railway.
The Six Bells Miners Memorial
Abertillery in Monmouthshire is still open to visitors and is unaffected by local lockdown restrictions.  The Six Bells Miners Memorial is popular with tourists due to it's beautiful setting – but it's history is tragic.  Six Bells Colliery was a colliery located in Six Bells, Abertillery, Gwent, Wales. On 28 June 1960 it was the site of an underground explosion which killed 45 of the 48 miners working in that part of the mine.  The 20m tall steel sculpture was created to honour them during 2010 and has been built using steel strips with painstaking welding, with the tall monument viewing across the hills – with spectacular views.  There is also a nearby Heritage Centre telling the story of the miners, which attracts people from  all around the world.
The Castles and Town Walls of King Edward
The Castles and Town Walls of King Edward in Gwynedd is a UNESCO-designated World Heritage Site. These castles remind us of Wales' turbulent past – which saw Welsh princes, wealthy landowners and English kings fighting to gain power and control of the region. Eight major castles were built by the English King Edward I as he completed the conquest of Wales in the late thirteenth century, and the remains of these castles are considered among the best cultural sites in Europe. The castles include Aberystwyth, Builth, Harlech, Beaumaris, Flint, Rhuddlian, Conwy and Caernarfon castles.  For students, writing an essay on historical places located in Wales can be challenging, as it requires the person to conduct extensive research. In such a situation availing the custom writing services of Essayzoo is the best option available to students. It enables the college freshmen to secure high grades in their coursework. By achieving the best results in studies, the students can explore exciting career options. The companies and recruiters prefer students who have good academic background and technical skills.
Despite the local lockdowns in place, it is still possible to explore and enjoy many of the historical attractions in Wales.  However, as the situation is fast moving, our recommendation is to check before setting out.