Ministry of Furniture realigns branding and corporate structure as it eyes new phase of growth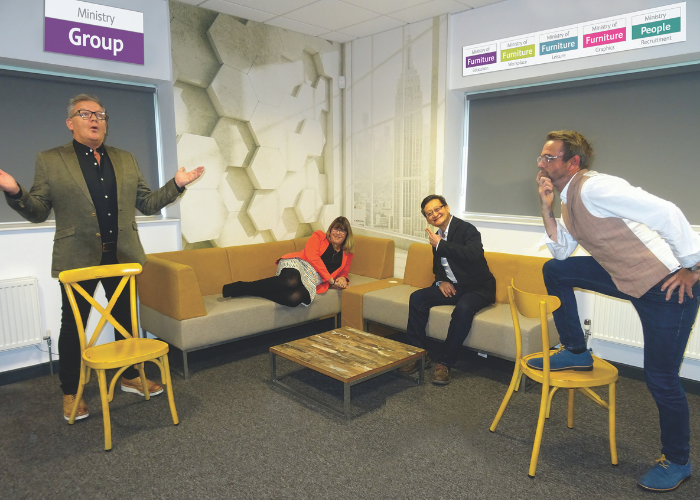 Ministry of Furniture, the company which emerged from Remploy Furniture in 2014, has realigned its branding, corporate structure and the composition of its board as it prepares for a new phase of growth and diversification in line with its values and aims as a company.
The company has created a holding company, Ministry Group, which has also acquired 100% of Sign and Print Systems, previously a separate limited company trading as Ministry Graphics in which it owned a 75% stake.
This has been rebranded Ministry of Furniture—Graphics, and Matthew Anderson, previously a shareholder in Sign and Print Systems, has become a shareholder in Ministry Group creating a four-strong board of directors.
The other brands now aligned under the Ministry Group holding company are: Ministry of Furniture—Education; Ministry of Furniture—Workplace; Ministry of Furniture—Leisure; and Ministry People.
The board of directors of Ministry Group will now comprise: Graham Hirst, Chief Executive Officer; Bobby Lee, Chief Financial Officer; Beverley Parker, Chief Operations Officer; and Matthew Anderson, Chief Creative Officer.
The company has also moved to realign and streamline its workflow by creating a Print and Design Centre of Excellence, which will integrate the culture and practices of its two sites: in Baglan Energy Park, near Swansea, and in Ystalyfera in the Swansea Valley.
The new hub, managed by Anderson, will allow designers and engineers to work side-by-side as one team to develop new, cutting-edge graphics solutions for clients leveraging the skills, expertise and range of materials at the company's disposal.
It is also exploring the possibility of developing a new site for the hub near the company's headquarters in Baglan Energy Park and is in discussions with the Welsh Government on a range of available possibilities.
Graham Hirst, managing director, Ministry of Furniture said:
"This realignment and consolidation of brands is a significant milestone for us as it brings together two distinct parts of the company under one clear umbrella in terms of ownership, management and culture.

"We have always felt the graphics business was a natural complement to what we did and we now want to take that thinking to the next level by creating a Print and Design Centre of Excellence, able to bring together the different forms of expertise we have and create unique, bespoke solutions for our clients across the UK.

"We successfully adjusted and repurposed our offering and products to navigate the challenges presented by COVID-19, while also ensuring we were part of the solution.  We developed a new range of personal protective equipment and products to protect individuals. While that offering remains buoyant, this realignment opens a new chapter for the company again.

"I am also delighted to welcome Matthew to the Board of Directors at Ministry Group. Matthew is a dynamic young man who will complement the skills of the other directors and also represent the start of a new generation of talent coming through, giving the company the direction and energy to reach new heights of success.

"We have always been proud of our company culture and ethos of putting social aims at the heart of the venture. I know that is something Matthew is also very passionate about and will help the company continue its commitment to supporting local communities in that vein."