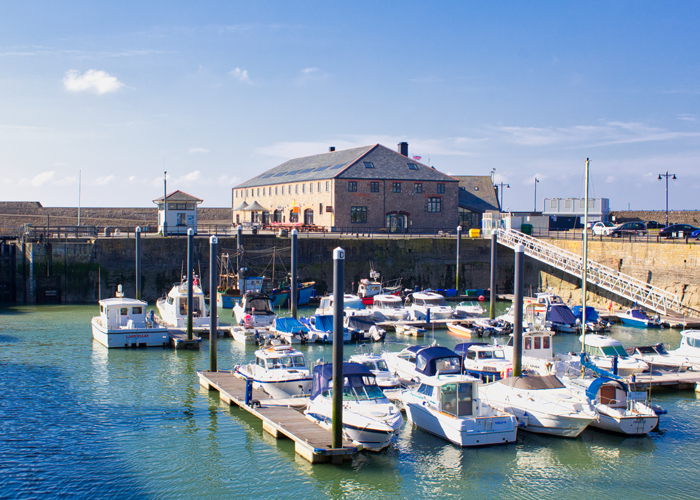 Public to give views on how waters around Porthcawl Marina should be used
Members of the public are to be consulted on how the waters around Porthcawl Marina, the Eastern Breakwater and the nearby RLNI lifeguard station should be used in future.
Bridgend County Borough Council has agreed to ask people for their views on how local bylaws which date back to 1953 should be updated for modern use.
The bylaws will focus upon the area around the Eastern Breakwater which includes Porthcawl Marina, the inshore lifeguard station and both the ramp and steps which provide access to the water.
Cllr Richard Young, Cabinet Member for Communities, said: "This is a busy, hugely popular part of Porthcawl, and it is vitally important to revisit the bylaws governing how it is used.
"In addition to featuring the main approach in and out of the marina and the launching area for the busiest inshore lifeguard station in Wales, the waters around this area also host activities such as fishing, sailing, powerboating, water skiing, stand-up paddle boarding, open water swimming, kayaking and more.
"The nearby breakwater also has a reputation for 'tomb stoning' where people leap from the wall into the water, often without realising that there is a concrete ramp hidden below the surface at high tide.
"As the current bylaws have been in place for 67 years, we need to bring them up to date and ensure that they reflect how the area is now used. We want members of the public to get involved with this, and will also be engaging with local organisations such as the RLNI, Coastwatch and more.
"This is about keeping people safe within a very busy marine environment, and ensuring that the bylaws match how the area is now used and can remain fit for purpose."
·       Details of the public consultation will be publicised in the New Year.
Cabinet agrees to explore new plans for Cosy Corner
Bridgend County Borough Council is in talks with Visit Wales over plans that could restore Cosy Corner in Porthcawl and deliver a range of new community facilities at the site.
Following a meeting of Cabinet on Tuesday 15 December, proposals have been approved which will seek to introduce the changes using council funding and by applying for additional support under the Welsh Government's Tourist Attractor Destination programme.
Cosy Corner was recently vacated by contractors following the voluntary liquidation of a community organisation that was seeking to establish a maritime centre development at the site, which sits alongside the marina near Porthcawl's iconic lighthouse and eastern breakwater.
Potential options for how the site could be used include establishing a high-quality children's play area to complement nearby attractions, a new outdoor performance space with seating and landscaping, facilities for use by community organisations such as the Sea Cadets, new premises suitable for small retail and start-up enterprises, and storage and changing facilities for users of the nearby marina.
The proposals also seek to address the current state of the site, which was partially excavated and had foundations and other work carried out before it was vacated by the maritime centre contractors.
Cllr Charles Smith, Cabinet Member for Education and Regeneration, said: "Council officers have already met with Visit Wales, who have confirmed that an opportunity exists to apply for funding to support the proposals.
"It must be recognised that any available funding will be significantly less than what would be required for a development on the scale of the abandoned maritime centre, and that the money will also need to be secured, spent and claimed within a very short timeframe.
"While this means that there is a very real need to maintain realistic expectations on what can be delivered, we also remain highly ambitious for Cosy Corner.
"As the 'bend in the elbow' of Porthcawl's seafront area, Cosy Corner forms an iconic part of the town, and is a natural focal point for visitors and residents.
"While it would have been wonderful if the community-driven maritime centre project had become a reality, we have to be realistic about what can now be achieved at the site using limited funds and within the short timescale.
"We want to build upon the success of other regeneration developments in the town, such as the Watersports Centre, new marina, new sea defences and new cafes and restaurants which have helped bring the adjacent Jennings Building back into public use.
"We also want to ensure that Cosy Corner remains within the public realm, and complements not only the other developments within the seafront area, but our own forthcoming regeneration plans for the Salt Lake and esplanade areas."
Deputy Leader, Cllr Hywel Williams, added: "While I share the disappointment over the plans for the community-driven maritime centre, I also support the action that the council is taking to ensure that Cosy Corner can be used for something which will be just as iconic and popular with residents and visitors alike, and which will serve the people of Porthcawl just as well."
Work will now take place on developing an application for funding to Visit Wales, and a further update will be delivered to Cabinet.