Study reveals Swansea Bay is home to the 2nd highest number of entrepreneurs in the UK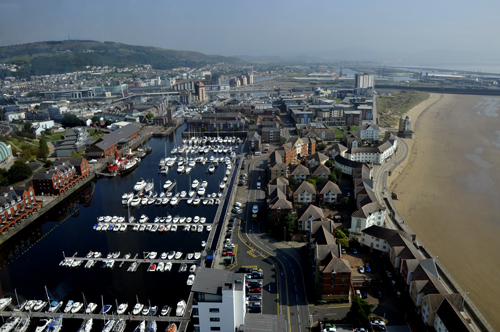 Top 10 UK regions with the highest percentage of entrepreneurs
| | | | | |
| --- | --- | --- | --- | --- |
| Rank | Region | Number of self-employed workers | Total employees | % of self-employed workers |
| 1 | Greater London Authority | 864,000 | 3,778,000 | 18.60% |
| 2 | Swansea Bay City Region | 50,000 | 263,000 | 16.10% |
| 3 | West of England Combined Authority | 74,000 | 422,000 | 14.90% |
| 4 | North of Tyne Combined Authority | 54,000 | 326,000 | 14.10% |
| 5 | Greater Manchester Combined Authority | 183,000 | 1,146,000 | 13.80% |
| 6 | Edinburgh and South East Scotland | 91,000 | 598,000 | 13.20% |
| 7 | Cambridgeshire and Peterborough Combined Authority | 56,000 | 373,000 | 13.00% |
| 8 | West Midlands Combined Authority | 167,000 | 1,133,000 | 12.90% |
| 9 | Liverpool City Region Combined Authority | 88,000 | 639,000 | 12.20% |
| 10 | Tees Valley Combined Authority | 34,000 | 255,000 | 11.90% |
The biggest city in the country also has the biggest percentage of self-employed workers, as 18% of all workers in Greater London are self-employed. Greater London has just under 3.8 million total workers, 864,000 of whom are self-employed.
In second place comes the Swansea Bay City Region which incorporates Swansea, Pembrokeshire and Port Talbot, with a total of 263,000 workers. 50,000 are self-employed which means 16.1% of the area's workforce are self employed.
The West of England ranks third, where 14.9% of workers are self-employed. This city region which includes Bristol as its biggest city has 74,000 self-employed workers from a total of 422,000.
"Taking the step into entrepreneurship is a big one, and I am always impressed by the number of people who are keen to leap into the unknown and give it a go, particularly in the last year, when we have seen an unprecedented number of new businesses emerge. It's a very difficult step to take though, and as the data shows, not all start-ups make it.
"There are a number of steps that new business owners can take to increase their chances of success.
Before quitting your day job to start a business, try to run your business alongside your job – this can be exhausting, but it gives you the opportunity to see if the business can generate an income without the financial pressure

When you're ready to take the plunge and dedicate all your time to your business, take the time to assess how to use your time most effectively – the admin side of running a business is time consuming, but there are services, like Tide, out there to lighten the burden

Fail fast – if something isn't working, don't waste time and energy trying to make it work, be agile and try something new. The beauty of starting your own business is that you have the freedom to take in the direction you want."