Denbighshire County Council
Latest advice is available here: https://www.denbighshire.gov.uk/en/resident/community-and-living/coronavirus/coronavirus.aspx
Online Support
Residents can access support and local up to date information from the following Facebook Groups.
https://www.facebook.com/groups/1510979912560238/2728342040824013 (Prestatyn Connect)
https://www.facebook.com/groups/243271620043035 (Coronavirus North Wales Support)
https://www.facebook.com/groups/681383602667117 (Love: North Wales Coronavirus Help & Support)
To keep up to date with the latest public health updates in Wales, please visit: https://phw.nhs.wales/
Local News & Details of Local Businesses delivering Hot Food, Groceries and Shopping
Some areas of Prestatyn are covered by Just Eat.
In addition, home deliveries are available from the following small businesses (this is being updated daily, please ask restaurants, shops, farms, butchers etc. to email coronacare@newsfromwales.co.uk)
A retail giant has donated thousands of pounds of food to Denbighshire foodbanks with help from council employees. TK Maxx ...
Read More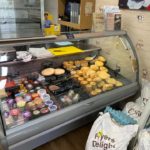 Prestatyn Butchers remain open and are offering a delivery (and collection) service for their community, offering award-winning meats, as well ...
Read More