Beechwood College community unites for end of year celebrations
Staff, students, and their families came together for Beechwood College's end of year awards celebrations on Friday 4 August.
Each student at the college received an award congratulating them on personal achievements including meeting their tailored learning programme goals and successfully carrying out tasks like cooking independently and settling in very quickly to college life.
In between awards the audience was entertained by musical performances from students and staff, including a country and western number sung by a student which his brother had written especially for him.
Rachel Newman, Principal and Director of Beechwood College, said: "Our end of year celebration is a special opportunity for students, their families, and staff to come together and look back on what they have achieved over the last year, whether these are small personal victories or major skills milestones.
"Of course, it is an emotional event too as we say farewell to our graduating students and wish them the very best of luck for the future."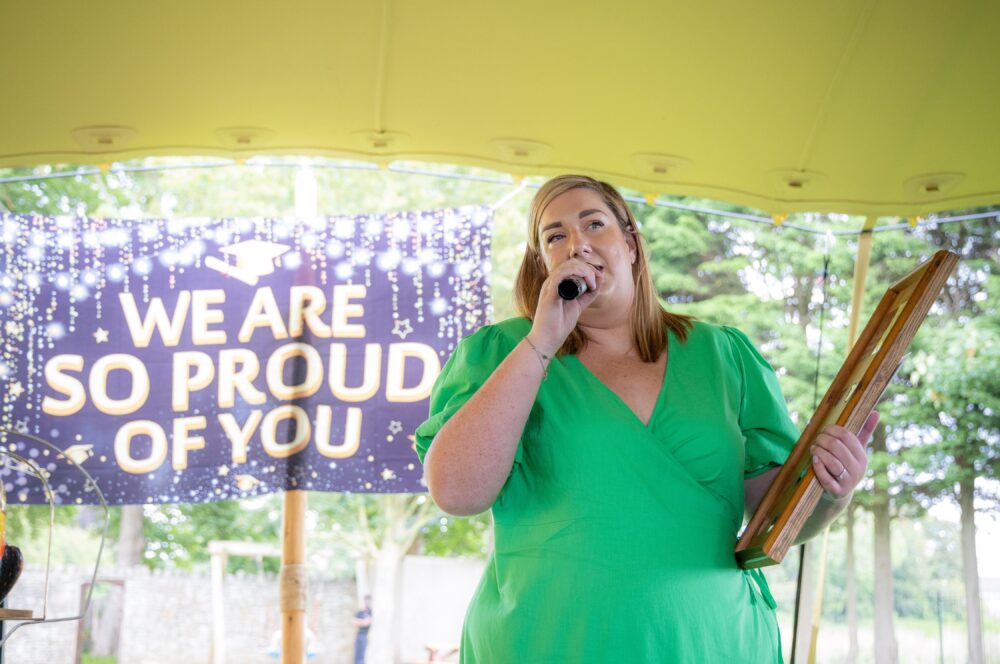 Staff such as teachers, clinical team members, learning support assistants, managers, support workers, agency staff members and service staff members were also recognised with their own awards.
Rachel added: "Our staff work incredibly hard day in, day out to support our learners and provide them with the best experiences and opportunities so it is important that we recognised their invaluable contributions to the college at our celebrations too.
"The most poignant part of the day was the presentation of the new Gemma Rees award to Support Worker Lewis Union. Team Leader Gemma was a bundle of energy and joy, loved and admired by the students and staff alike. The news of her passing back in November hit us all very hard. We opened a memorial garden and quiet room this week to celebrate Gemma and it only seemed fitting that we created this award too to remind us all of the example Gemma set us."
In addition to the awards, the students and their families were able to enjoy a wide range of fun activities on the day. The bouncy castle, hook a duck, water pistol painting and non-alcoholic cocktail bar all proved popular but, as ever, the visit by the ice cream van drew the longest queues.
Beechwood College in Sully offers education to young adults with Autistic Spectrum Conditions in a safe, secure environment, tailoring their provision to match each student's complex needs.
Well-respected for its education standards and outcomes, the college offers an integrated learning approach which involves the active participation of the education, clinical and residential teams.
Through an individual, balanced and meaningful curriculum, Beechwood College offers access to experiential lifelong learning which focuses on promoting independence and wellbeing to enable students to develop the confidence and skills they need to move on into the community and a greater level of independent living.
The college has both day and residential students and is part of Iris Care Group. More information about Beechwood College is available at www.beechwoodcollege.co.uk